Monthly Archives:
March 2017
Por: Gaby Fextivo
En una posición geográfica privilegiada, bañada por las aguas del río Pánuco, se encuentra la Heroica ciudad y puerto de Tampico. Su centro histórico con edificios de estilo francés, guarda detalles de la historia de México de los que casi no se escucha.
Fue en este puerto, (cuyo nombre "Santa Anna de Tampico" le fue asignado en honor de tan controvertido personaje) donde en 1829 se consolidó la independencia de México. Es aquí que se consigue la "Victoria de Tampico". Esta batalla fue el último intento de la corona española por conquistar a nuestro país.
No solo guerras han pasado a la historia en este puerto, también lo han hecho sus delicias. Recordemos la carne asada a la Tampiqueña, las tortas "de la barda", la jaiba "a la Frank" del famoso restaurante "El Porvenir". También hay un lugar que es punto de reunión de las familias tampiqueñas y visita obligada de turistas, la fuente de sodas "El Globito", ubicada en la Plaza de Armas al borde de la calle Fray Andrés de Olmos. Fundada en 1937 por Don Jesús Estrada Trujillo, "El Globito" es conocido por su deliciosa torta de ternera elaborada con la receta secreta de la familia, así como por sus refrescantes machacados de fruta, de los cuales el de piña es el más solicitado. Su bebida estrella es el famoso "globito",  un batido de rompope con leche y canela que debes probar.
"El Globito" está abierto las 24 horas, así que no importa si tu antojo surge a media noche. Seguro lo encontrarás abierto y te sorprenderá darte cuenta que no eres el único antojadizo.
Pero, ¿qué sería de la ciudad sin su gente?
Saliendo de "El Globito" caminando por la calle Díaz Mirón, casi frente al Hotel Inglaterra, se encuentra la estatua de bronce de un hombre que en vida llevó el nombre de José Calderón Torres, conocido por los tampiqueños como "Pepito el terrestre".  Nacido en 1915, y vecino de la bulliciosa colonia Cascajal, Pepito alcanzó la fama por su estatura: nada más y nada menos que 2 metros 34 centímetros.  Pepito llegoó a ser el hombre más alto del mundo en las décadas de los 50, 60 y principios de los 70.
Debido a su estatura, recibió numerosas ofertas de trabajo, desde anunciante de productos y hasta de programa de espectáculos, pero Pepito se negó dejar su tierra y su familia. Él trabajaba en el Sindicato de Terrestres en el puerto, de ahí su mote cariñoso, "El terrestre". De los tampiqueños se ganó el cariño y el respeto por ser un hombre noble, su vida se volvió leyenda y es contada a las nuevas generaciones con particular cariño por nuestros padres y abuelos.
De Tampico hay mucho que contar y mucho que probar. Visítanos, pruébanos, te garantizo que te enamoraras de nuestra ciudad.
Hasta la próxima. ¡Abrazos Jaibos!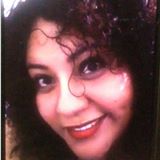 Gaby Navarro es corresponsal de La Vitamina T. Además de su infecciosa pasión por su natal Tampico, y su conocimiento sobre la gastronomía y tradiciones locales de primera mano, Gaby es dueña de la empresa de banquetes Fextivo. Encuéntrala a esta extraordinaria embajadora tampiqueña en su página de Facebook.
What do you do when Johnsonville invites you to kick off grilling season at the world's largest grill while supporting a great cause? You say yes. And to top it off, we got to tailgate the 2017 Chicago Polar Plunge with out  favorite Chicago Bear/grillmaster for a day, Brian Urlacher.
It could not get more Chicago than this- the cold never stands in the way of purpose or brats. We joined Johnsonville and thousand of fearless (and creative) Chicagoans at North Avenue Beach to witness the Polar Plunge. In its 17th year in our city, the event raises funds for the Chicago chapter of Special Olympics.

Participants received a warm reception!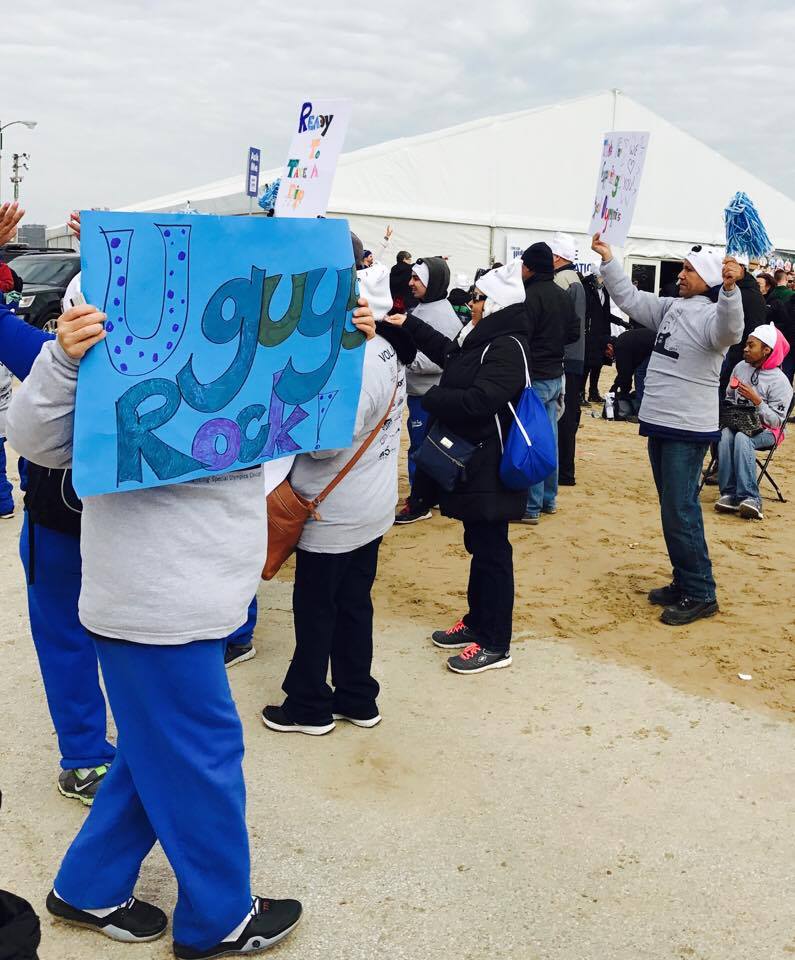 It was truly inspiring to see so many individuals by themselves, or in teams willing to endure a bone-chilling experience to support the charity's mission.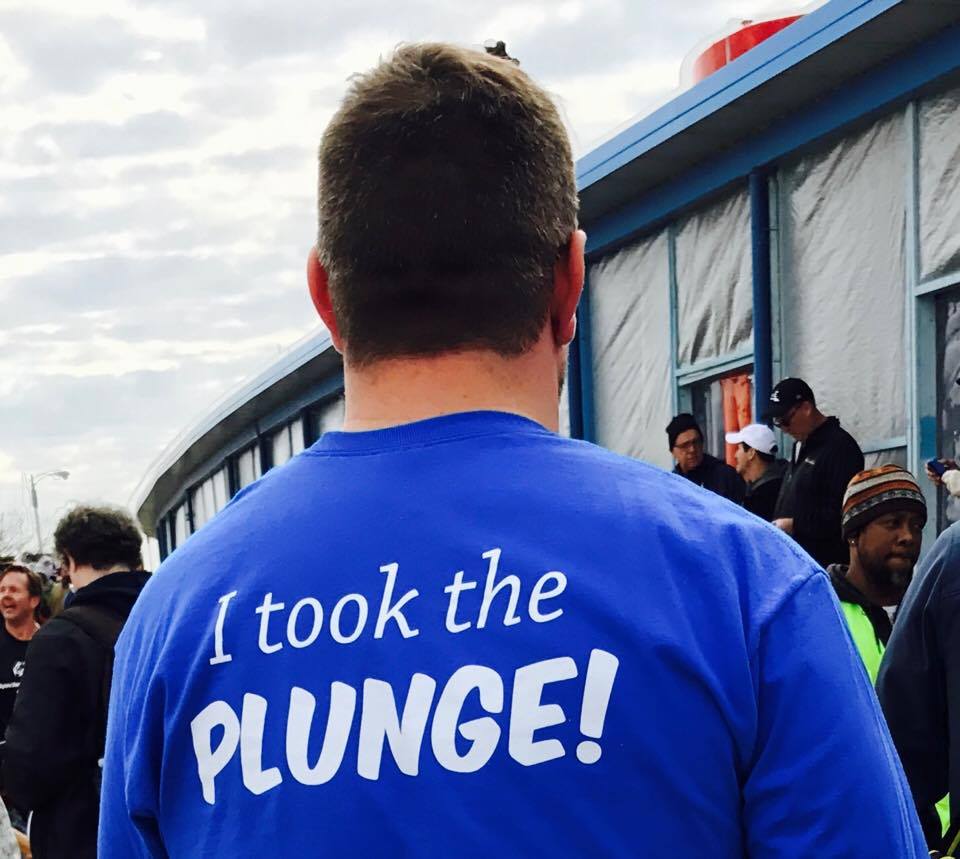 Shivering plungers were warmed up with towels, and of course, Johnsonville brats fresh off the burners of the Big Taste Grill, a 20-foot tall, 65-foot long grill which cooks 2500 brats per hour!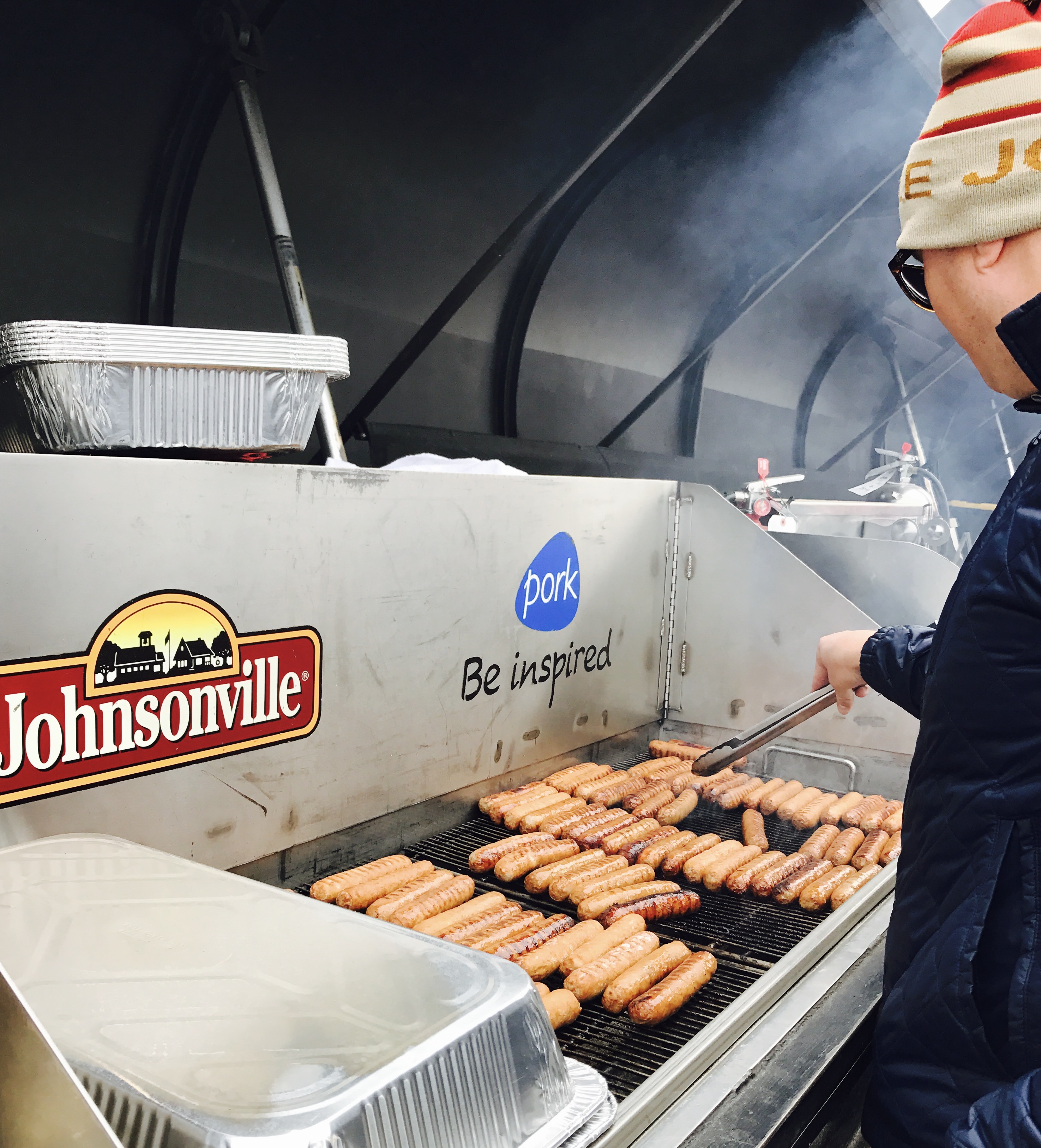 The brats were delicious. It reminded us it is time to grill.  A grilling tip from Urlacher: "Go low and slow".

This is a sponsored conversation written by me on behalf of Johnsonville. The opinions and text are all mine.