Tag Archives:
Gastronomy
En esta época de pozole, el Chef Aldo Saavedra nos trae  desde Ciudad Guzmán, Jalisco, una idea excelente y deliciosa para el recalentado.
Tostadas Raspadas con Pozole Seco
Ingredientes 
Pozole de cerdo de un día anterior
Tostadas
Col morada
Rábano
Cebolla
Salsa de chiles secos
Limón
Proceso
Pon el pozole a fuego bajo. Mueve constantemente hasta que se espese.
Cuando el pozole esté más espeso que un atole, retira del fuego y deja enfriar.
Ya a temperatura ambiente, sirve el pozole espesado sobre las tostadas.
Termina de montar la tostada con col, rábano, cebolla y carne.
La salsa y el limón van al gusto.
¡Felices fiestas!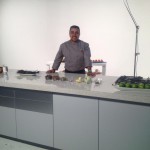 El chef Aldo Saavedra ha cocinado para huéspedes de establecimientos como el conocido Hotel Condesa D.F. y ha contribuído con sus recetas en proyectos con marcas de la talla de Larousse y Danone. En Nuestra Mesa, el chef Saavedra comparte con los lectores de La Vitamina T, su pasión por la cocina y por México. Encuentra más información sobre el chef Saavedra en RutaAlma
France has invited the entire world to a savory journey: on March 19th, 2015, more than one thousand restaurants around the world will join in to celebrate France's gastronomy.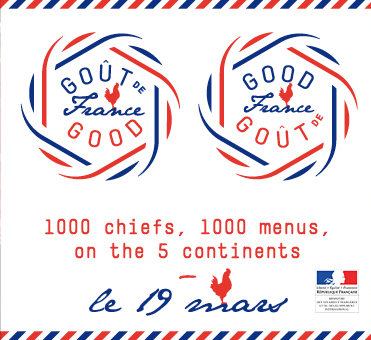 Organized by world renowned Alain Ducasse and the French Ministry of Foreign Affairs and International Development,  Goût de France was inspired by the iconic Auguste Escoffier, who in 1912 launched "Dîners d'Épicure" (Epicurean Dinners) – featuring a menu which was aimed at being served the same day in as many cities as possible.
Eateries around the world, from haute-cuisine restaurants to bistros, were invited to apply to participate by proposing a menu that showcased France's culinary traditions. Winners were selected by a committee lead by Ducass himself.
All winning menus render homage to a vibrant, open and innovative cuisine, while remaining true to its values of sharing, pleasure, respect for good food, and for the planet.  There are 24 participating restaurants in the US, from LA to NY and 43 in Mexico.
Our dear José Bossuet is among these 43, with his Café Contento, being the only eatery participating  in this event in San Miguel de Allende.
Bossuet has appointed La Vitamina T´s very own Aldo Saavedra to be part of the event. Here is the menu he will be serving.
 Foie Gras and Cactus Terrin, Hibiscus Royal Kir
Zucchini Blossom and Roquefort Quesadilla
Provençale-Style Red Snapper, Cilantro Green Rice
Beef Medallions, Watermelon Au Jus
Local "Corazón de Plata" goat cheese
Chocolate, fennel and grilled mango tart with coconut foam
If you are in Guanajuato, you are in luck and we are very jealous (we will be at an event in Miami where NO restaurants have won their entry to this worldwide event. Ahhhhh!)
All participating restaurants are now present on www.good-france.com website. You may book directly at the restaurant of your choice.