Tag Archives:
Grilling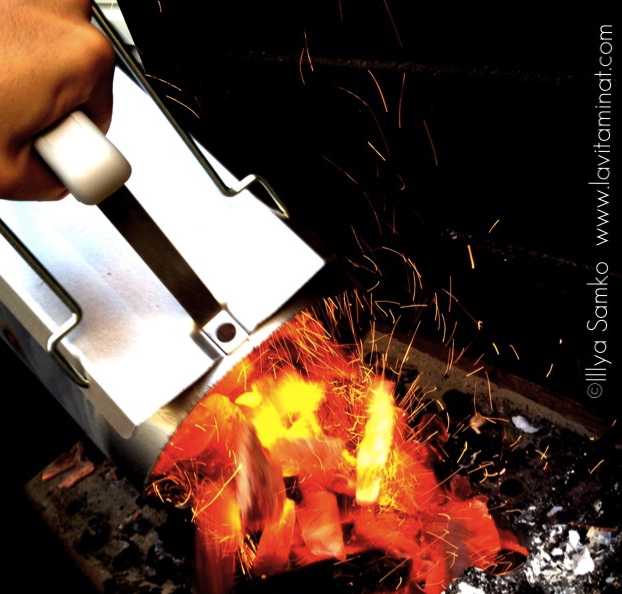 Hasta aquí en las latitudes más septentrionales, desafiando el clima que no se decide completamente a cambiar de estación,  las parrillas ya están a todo lo que dan. Para ayudarlos a prepararse para el Día del Padre, hemos consultado con varios papás expertos en parrilladas. Aquí les compartimos cinco de los tips que más nos gustaron para que usted los ponga en práctica.
Tip 1.  Los mejores cortes de carne para asar son los cortes  marmoleados con o sin hueso. Es decir, aquellos en los que la grasa se encuentra distribuida en la carne. Fíjese que este sea el caso cuando la compre, o pídale a su carnicero que le ayude.  Uno de nuestros papás, carnicero por más de 60 años, nos recomienda que asemos cortes como el rib eye, el porterhouse y el T-bone. Ahora que si la fiesta va a estar concurrida y necesita estrechar el presupuesto, pida tri-tip, un corte muy famoso en California. Este corte es bueno, bonito y barato.  Sí va a asar este tipo de carne,  aunque parezca abundante, no lo corte hasta que esté listo para servirse.
Tip 2. Los cortes más delgados quedan menos suaves al asar. Considere marinarlos antes de ponerlos a la parrilla. Esto aplica también para el pollo.
Tip 3. Si tiene una parrilla de carbón, cree dos áreas con dos intensidades diferentes. Entre más alta la pila de carbón, más intenso el fuego y más fácil será quemar la comida. Puede usar el área de mayor intensidad para sellar la carne. Gire la carne 45 grados para hacerle marcas en a parrilla. Cocine la carne a término en el área de menor intensidad.
Tip 4. Espere a asar su comida hasta que el carbón esté blanco. Si comienza a cocinar antes de que el fuego alcance su mayor intensidad, su comida sabrá a combustible.
Tip 5. Si cocina su carne en brochetas, considere alternarla con fruta como piña o manzanas. Las mejores manzanas para asar son las Granny Smith por su sabor y textura. Otra idea que nos encantó es la de poner tomates cherry al final de sus brochetas. Cuando la piel del tomate empieza a pelarse, es un buen indicador de que la carne está lista.
Pasa a visitar nuestra tienda en línea si quieres cocinar con una sal mexicana deliciosa la Sal de San Felipe
¡Feliz Día del Padre!
Summer is finally here, and in these latitudes, barbecue season often evokes images of sporting events and patriotic-themed cookouts. Of course, you need weather to cooperate, so as the words "barbecue" roll off your tongue, you have unconsciously summoned the idea of a picture-perfect day. Growing up in a part of the world blessed with rather benign weather year-round, it was not until I moved to Chicago that I understood why the state of the atmosphere often finds its way into the conversation or the news. Here, grilling is definitely a seasonal event and sometimes it is referred to as barbecuing.
In Mexico, barbecue or barbacoa, means something different- it is a dish that typically entails cooking meat on an open fire (usually lamb) in a hole that has been dug in the ground for this purpose. Barbecuing to us, is a parrillada or a carne asada (literally, "grilled meat"). These words immediately make me think of a Sunday spent surrounded by family and friends in Mexico. Putting the meat on the grill is the main event, and the process entails an unspoken ritual that, like any other party in Mexico, takes at least a whole day. To me, the most curious part of the custom is what is often done in hopes that the rain won't spoil the day- scissors and knives are staked into the ground. In some instances, this is done forming specific shapes, in others, these artifacts are put outside along with ribbons or even eggs…
Last year, we asked a few suburban dads for their grilling tips right on time for Father's Day. As I asked around, I realized that ideas were incredibly diverse-  from ingredients to techniques. Something I found particularly fascinating was that no matter who I was talking to, this conversation resonated.  The joy of grilling seemed universal.
Is it? I think it might be. I asked my friend Illya for a few grilling tips. He happens to be Ukrainian and someone who, like me, is truly passionate about food. What do you have in common? You speak the same language-  He is another guy who loves to grill.
Sizzling Hot: Our Primal Love for Food over Fire
 By: Illya Samko
Since man started cooking with fire, food has never been the same. There is something deeply primal about putting a piece of steak on the fire; the sound of  meat sizzling on the grill, its aroma and the divine taste of a fresh steak. I believe these images are seared into our DNA.
In the Ukraine, grilling is mainly associated with cooking pork. Pork shoulder is usually cut into cubes and marinated in mayonnaise, salt and onions. It is then skewered and cooked over charcoal slowly until it is well done.
My greatest learning experience as far as grilling goes, took place during my first trip to Monterrey, Mexico (birthplace of my lovely wife, Myrna). Here, grilling  is a way of life to say the least. I was impressed with how Regios* know their grilling. They use a specific type of charcoal, Mesquite, which gives the meat a very smoky and distinctive flavor. The preparation process is as important as grilling itself- It takes a certain number of cheves** to get the thing going. First the fire, then the botanas*** and few hours later, when you are so hungry that you could eat just about anything, you finally hear that "magic sound" and smell the beef- you are lovestruck.
 At that point, in spite of all the beers you've had, your senses are heightened and the level of salivation is downright dangerous. Finally, the teasing is over and it is time to feast- the plate full of grilled goodness makes it to the table. Devour you will. Believe me. Not only is grilling a ritual that takes hours, it is also a way to celebrate anything. Mexicans seem to celebrate life if there is no other particular reason to party.
When grilling there are a few important things that you need to know. I believe these basic steps make a huge difference.
Never put any meat on the grill that came straight out from the fridge. Let it warm up a little. Room temperature is ideal.
Season your meat with kosher or sea salt and pepper. Good steak needs absolutely nothing else.
Be patient. You cannot rush a good burger, steak or whatever you are grilling.
After you take your steak off the grill, let it rest for about five minutes. This will allow all the juices to be redistributed back into the steak evenly.
I use a chimney starter to speed up the process of getting the coal ready for grilling. Using accelerators on the coal gives your food  a chemical taste.
Enjoy!
Born and raised in Western Ukraine, Illya Samko is a food enthusiast who loves to travel, learn about different cultures and try new cuisines. With a  degree in law, and a knack for anthropology, Illya has worked in London, New York and Chicago, where he currently lives with his Mexican wife, Myrna. 
*
Regios
 short for regiomontanos, are a citizens from Monterrey, Mexico. **Cheves is slang for cerveza or beer. ***Appetizers, snacks   Originally published 6-23-2013 www.lavitaminat.com