My Search for the Holy Grail – The Best Taco al Pastor in Chicago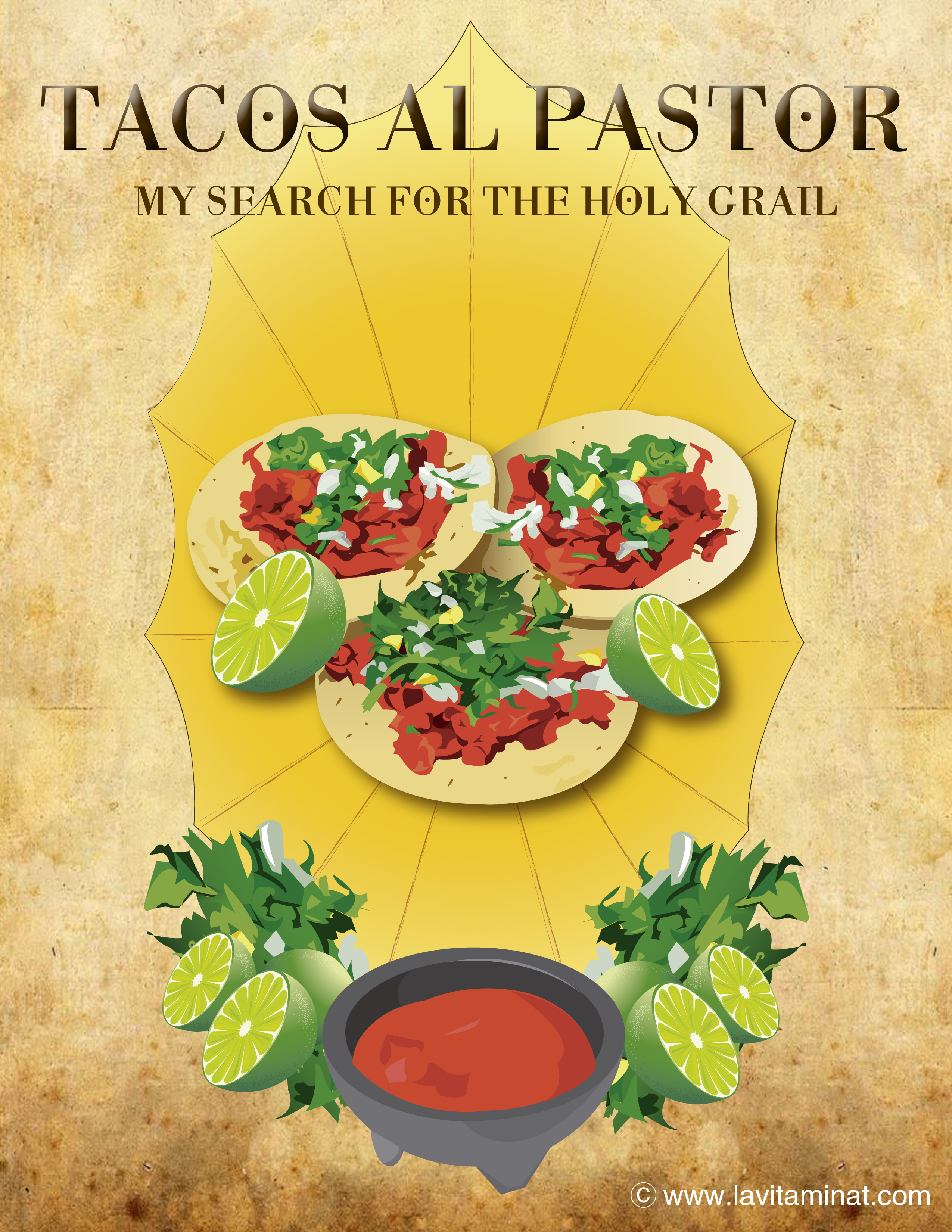 A few weeks ago, I set out to find the best taco al pastor ('shepherd-style' taco) in Chicago. This down-to-earth, charismatic delicacy is a dietary staple of  defeños*, and despite the fact that in Mexico City taco stands abound, any local will tell you that not all tacos al pastor are made equal.  Finding the perfect taquería is almost a rite of passage, one that speaks to the way we connect with our city and beyond- a Mexican's relationship with their pastor is emotional… personal, mystical.
The Genesis
Finding good tacos (let alone authentic ones) north-of-the-border is not so easy. Our taco al pastor story in April made me aware of the fact that I am not alone in this realization. I asked La Vitamina T readers and friends to submit their favorite al pastor destinations in Chicago. A few Facebook posts and tweets later, I had a list of 18 different establishments  endorsed by locals, among them, several Mexican transplants. Similar to how my friend Dave from New Jersey can recognize a good Philly cheesesteak, I figured recommendations from Mexicans added instant credibility to the suggestions.
This is how my search began.
Below is the final list of nominees. I visited every  establishment on this list without letting the owners or staff know my intention, as I  thought this might  influence the quality of the service:
Atotonilco (I tried the tacos in both locations, Joliet and Chicago)
Big Star
De Cero
El Pastor
El Tío Luis
El Solazo
Indio
La Ciudad
Lagartija
Los Comales
Los Gallos
L´Patrón
Mercadito (tacos al pastor are only a seasonal item, so we did not get to try them)
Rubi's Market on Maxwell
Taco joint
Taquería Juanito
Tierra Caliente
Zacatacos  (Berwyn location)
Several Pepto Bismol doses and 3 extra pounds later, my wandering through the streets of Chicago and its suburbs came to an end. Dozens of tacos have been sampled and scorecards have been tallied!
 Each taco has been carefully evaluated based on criteria that we believe brings to life un taco al pastor "hecho como Dios manda." (according to God's orders)**
 I am now ready to "go tell it on the mountain"!
* Defeño is a Citizen of Mexico City (D.F.)
** Mexicans say something is made como Dios manda (according to God's orders) when something is accurately accomplished.
The Exodus
If you, like me, have lived in Mexico for the great majority of your life, you will be perplexed to hear what has been smuggled into menus, and sold and passed up across the country for the real deal: some of the most popular and readily available counterfeit versions are stuffed with ground beef and covered with cheese or something resembling cheese; others are called tacos al pastor, and are served with sliced lettuce and tomatoes. Heresy!  In certain places, you might be given a choice of hardshell or softshell taco. During my search I found that even some of the taquerías in predominantly Mexican neighborhoods have lost their way- in their attempt to  to cater to a non Mexican palate, they have begun serving some of these apocryphal versions.
This leads me to provide the following word of caution: If you are visiting Mexico and you are looking for a hardshell taco, you will give yourself away as a tourist. We simply don't have them. We have tostadas, which have a crunchy surface similar to a totopo, which is considered a completely different plate.
In the northern part of the country, flour tortillas were made popular by the Jewish settlers in the area. Still, you will find that most tacos in Mexico are made with corn tortillas.
Leviticus 
Treating oneself to tacos al pastor is an experience that entails a known ritual. Taquerías usually go from the very informal ´hole-in-the-wall' joint, to fancier establishments featuring a more elaborate set up. The dynamics are the same across the board, and patrons know what to expect:  quick service, dinner and a show. Taqueros (half cooks, half ninjas) conjure up juicy tacos with meat and pineapple they shave off from a giant spinning skewer, to then catch the pieces in a tortilla with quick, precise movements. They do this gracefully, while keeping tallies, processing new orders, and sometimes, giving change and even interacting with the crowd.
Tacos al pastor must meet the following criteria:
1. Must be roasted vertically in a spit called trompo (top), which is clearly visible.
2. Should be made with pork meat, seasoned with a variety of chilis and achiote, which gives them their color.
3. These tacos are served in small tortillas (about 4 1/2 inches in diameter).
4. Tacos al pastor must include a chunk of grilled pineapple, chopped cilantro, raw onion and limes.
5. Salsas are very important in taquerías, and often times they become and element of differentiation.
6. Lime should be abundant and readily available.
Methodology
Each taco was evaluated using a scale of 1- 5 points for a total of 30 points in six different categories:
Meat quality
Meat flavor
Tortilla size and quality
Portion size
Accuracy/freshness of ingredients
Quality of salsa
Points were assigned using the following scale to score each taco:
1= Disappointing
2= Meh…
3= Ok
4= Really good, but not extraordinary or the real deal
5= Perfect. ¡Órale! Am I in Mexico?
Revelation
I have eaten the fruits of ¨the promised land" and I cannot honestly say that my search led me to tacos al pastor exactly like the ones I would find in Mexico City, but I uncovered some really good ones that will definitely hit the spot.  Overall, I was surprised to find that the meat in the eateries we visited was generally saucier than it is in Mexico. Also, portions are usually much more generous and, for some reason, when it comes to tacos al pastor, those with pineapple are very hard to find.
Many taquerías only take cash, so make sure you stop at an ATM ahead of your visit!
And the Winner is..!
De Cero – 28/30 Points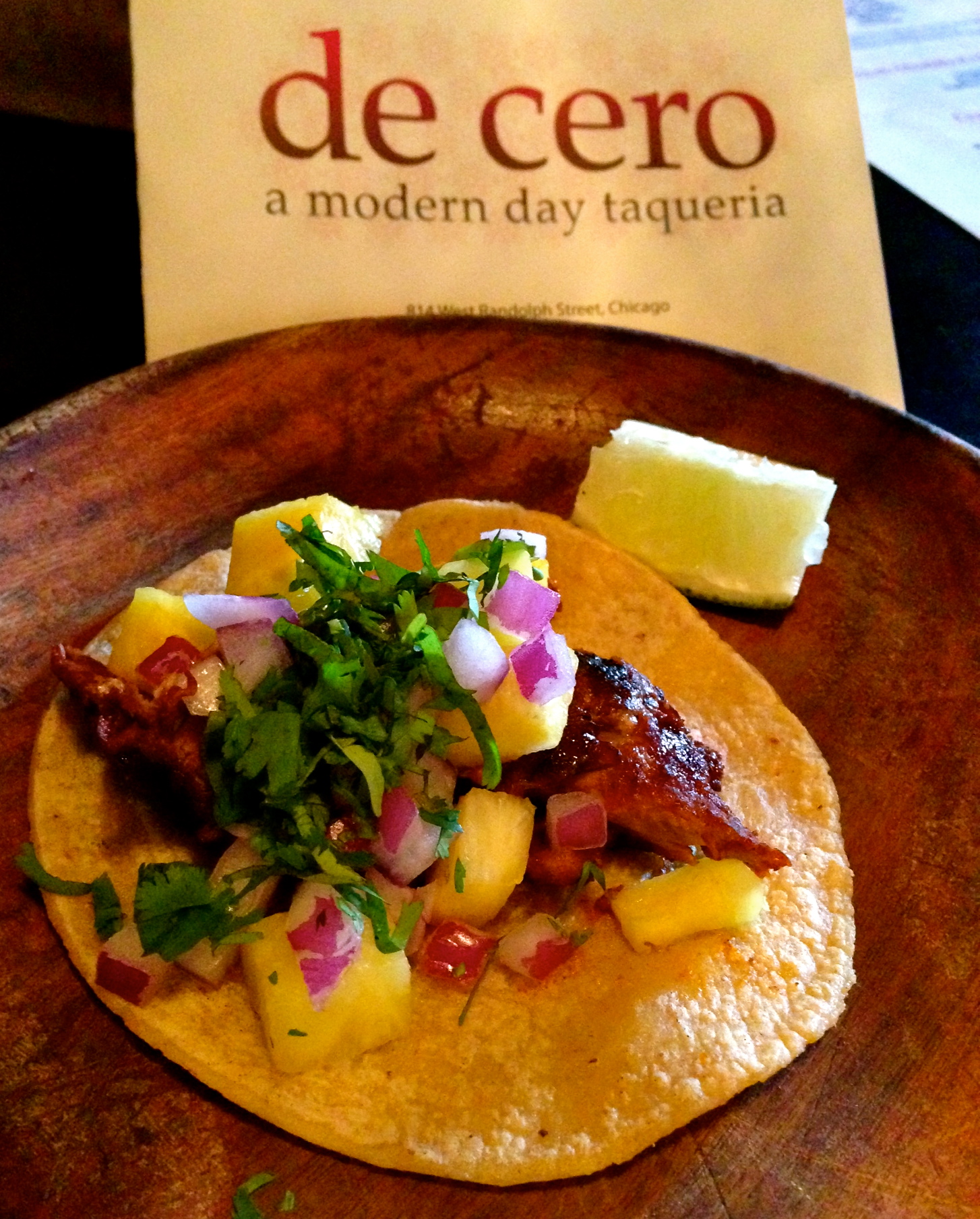 Meat Quality: 5  Meat was absolutely fantastic.  We did not see the trompo, but we asked and confirmed it is indeed there.
Meat Flavor: 4    Flavor is really nice, but the meat has a bit of a kick to it.
Tortilla Size and Quality: 5  Tortillas were fantastic. Perfect size!
Portion Size: 5   Perfect ratio. This bundle of joy offers the perfect burst of flavors in each bite.
Accuracy/Freshness of the Ingredients 5 Really fresh ingredients, a check for cilantro, onion, pineapple (although cubed) and lime! The ratios were so good in each bite, I did not let the cubes deter me.
Salsas 4:  I got red salsa with my order which was really, really  good. 

Note: We attempted to get tacos al pastor at De Cero in three different instances. We were persistent and were able to understand why these tacos fly away. Every bite is perfect. The tacos are a bit spicy (and pricey), so make sure you order an horchata to wash them down and know that the meal will be well worth your money. Luckily, this taquería accepts credit cards, so the amount of cash you brought with you won't  limit the amount of tacos you enjoy.  I am really intrigued by their tamales verdes. I can´t wait to go back!
First Runner Up
Big Star – 27/30 Points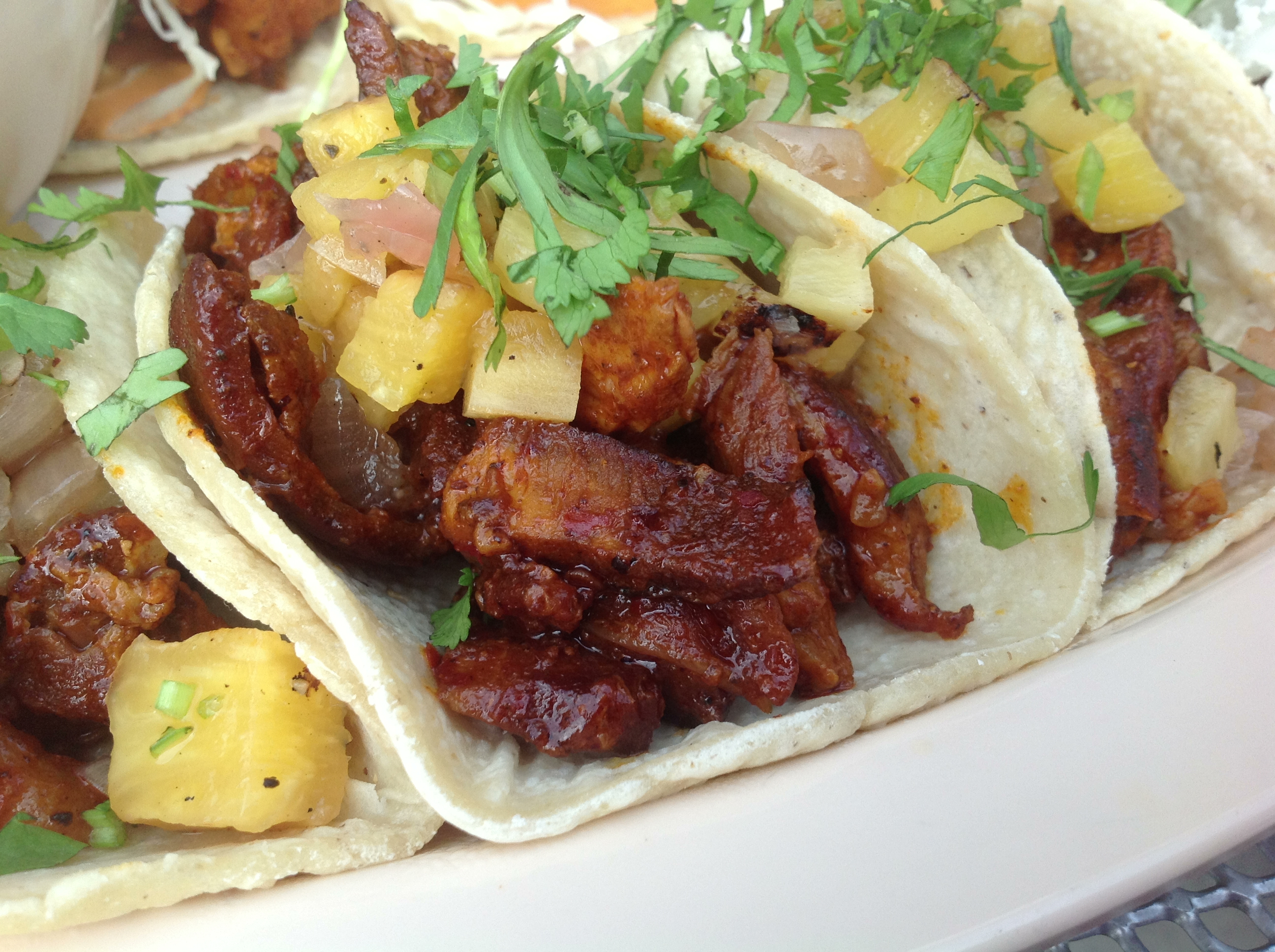 Meat Quality: 4  Really good and not too fatty.  Meat was a bit chunky, which is why we did not rate it a 5.
Meat Flavor: 4    Flavor was really nice, maybe a bit sweet, but really good. Saucy, not dry as it should be.
Tortilla Size and Quality: 5 Perfect size. Tortillas were great.
Portion Size: 5 Perfect portion
Accuracy/Freshness of the Ingredients 5 Really fresh ingredients. I loved to see pineapple on them, which is not easy to find, so I did not allow the cubes to worry me.
Salsas 4 Salsa is good and they have chiles toreados (grilled jalapeños), as well as pickled peppers and carrots. But, you will have to order them separately, as they do not come with your order.
Note:
We waited for about 3 hours to get a table at this famous eatery, which was even more difficult considering the aroma around the restaurant teases you with a preview of what is to come. There is a walk-up window with considerably faster service.  The bar is quite a bit noisy, so if this is where you want to hang out, you will have to be prepared to forego conversation and focus on your food, which is well worth it.  Bring cash with you.  They only take cash! Service from the greeters might be a bit rough, but will improve once you sit down.
Second Runner Up 25/30 Points  (Tie)
Taquería San Juanito (Albany Park)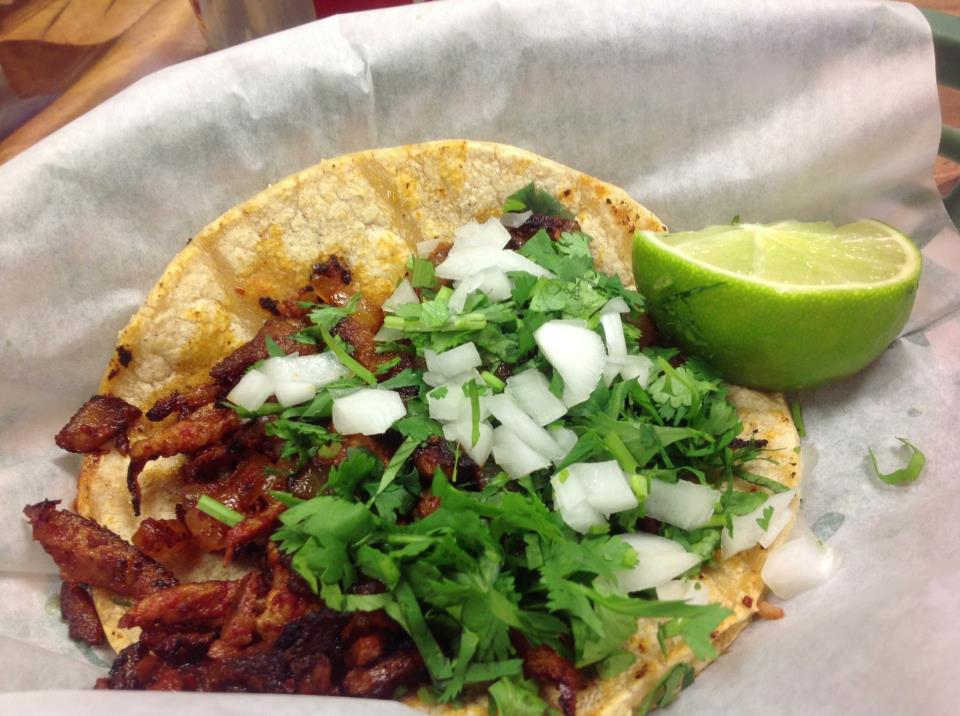 San Juanito was the only place where the meat was not saucy. I found their meat flavorful, but the taco had no pineapple, which lowered-down their score. Green salsa was particularly memorable.
Zacatacos (Berwyn)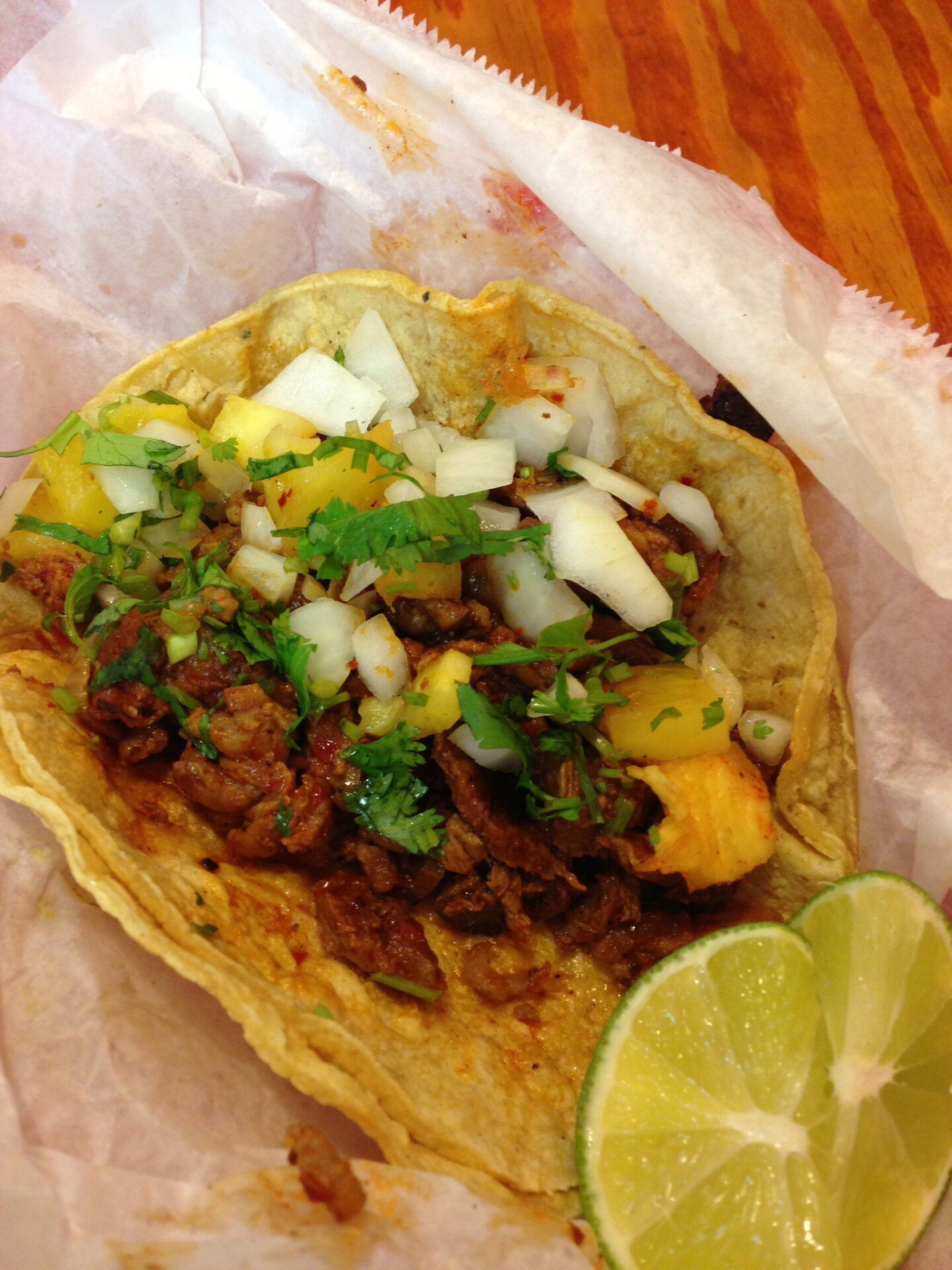 Zacatacos in Berwyn features the most tender meat you can possibly imagine. The tacos are a bit bulky and a come in a bigger tortilla, but are still really good. Salsas are amazing.
Of Note:
I really liked the concept of Bien Trucha, a modern-looking Mexican restaurant that reminded me of the vibe of restaurants in Mexico City. Food, not kitsch is the focus here, and the execution of the tacos spoke to quality. Also, Bien Trucha was the only establishment that got the pineapple right, as they had just a chunk of it  vs. the cubes I found in other restaurants.  I don't remember getting any salsa with my tacos and had to ask for lime, but if you have had enough of taco talk, try their guacamole of the day or their Pulparindo cocktail! The photo below is not the best because I did not have very good lighting inside the restaurant.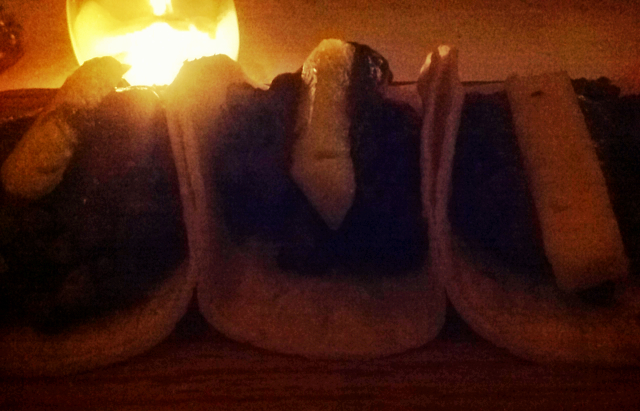 This was not a taco al pastor and definitely not on the list, but in all fairness, some of the ones I tried were not really tacos al pastor either. This grilled  pork taco, a gift from the streets of LA (where fusion happens everyday) was so incredibly delicious, I thought it deserved to be added. The name of this Lincoln Park gem is code for those who know how to read it: Spanish speakers, will  phonetically  understand "Del Seoul" as "del sol", or "of the sun".  Mexican cuisine allegorically represents the sun in a meal with a tortilla.
Brilliant branding, brilliant food!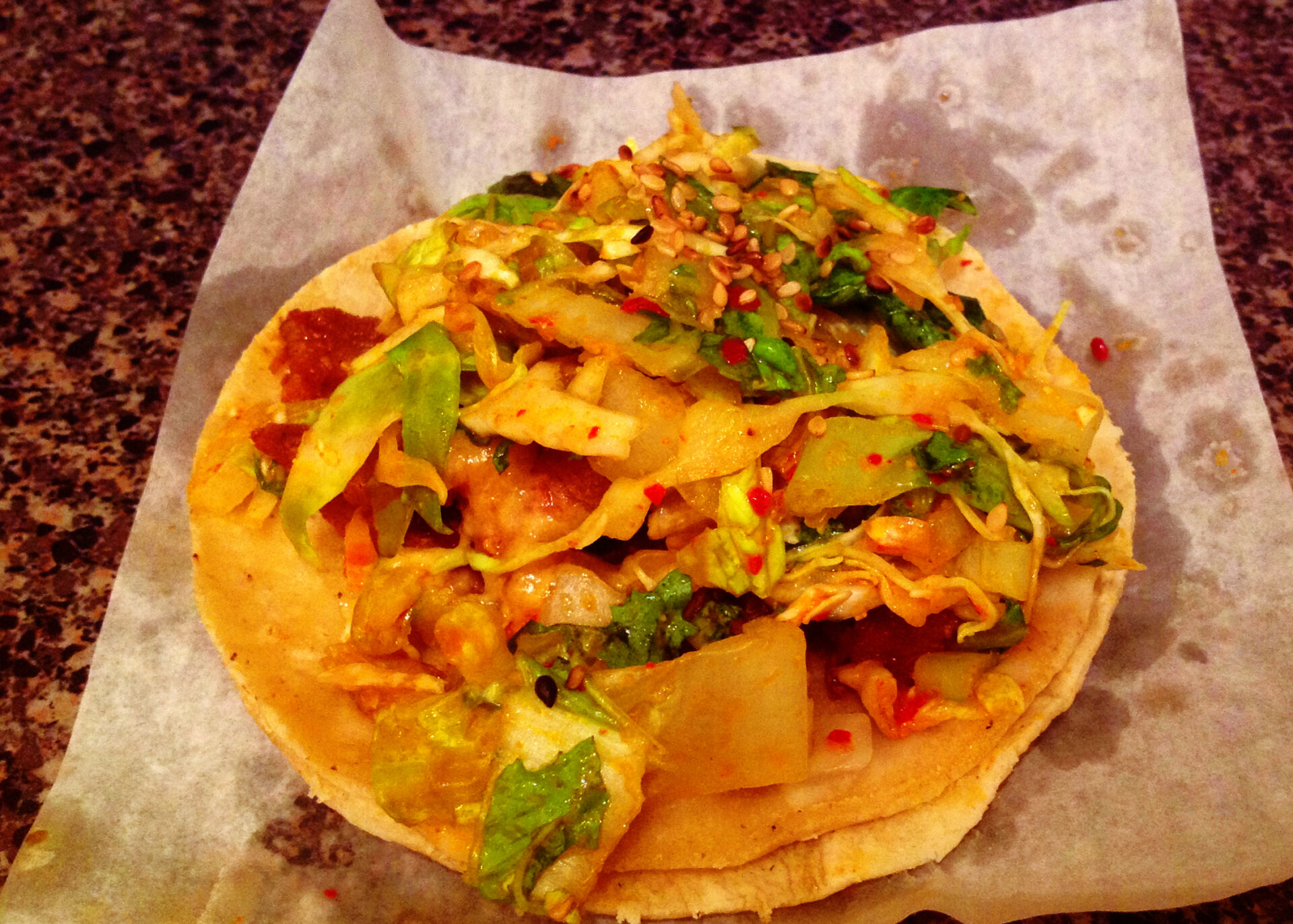 De Cero is our reigning champion, but if you think there is a 30/30 taco out there, let us know. In the mean time,  ¡a taquear!