Méx-O-Logy – Hardcore Horchata Recipe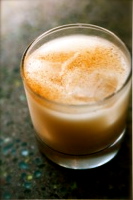 Horchata, a delicious Mexican rice drink is one of my favorite beverages.  Chef, Jonathan Zaragoza, surprised us with a cocktail inspired in this drink. This is definitely horchata for adults.
Hardcore Horchata
8 cups of water, divided
1 cup long grain white rice, rinsed
1 stick of Mexican cinnamon
½ cup of sugar, or to taste
½ cup Jim Beam Hardcore Cider
Working in batches, combine the rice, cinnamon and 4 cups of water in a blender, pulsing to grind the rice and cinnamon. Transfer the rice/cinnamon mixture to a bowl and add remaining 4 cups of water. Soak overnight. Puree the rice mixture, again and strain through a fine meshed strainer or cheesecloth. Mix in sugar and Jim Beam Hardcore Cider and chill. Serve over ice with a cinnamon stick as garnish.
A Chicago native, Zaragoza taps into his Jalisco roots to bring to life Mexican-inspired dishes with a creative twist. This recipe is the second of a series.  
Originally published on 6/16/2014
La Vitamina T was invited to an event sponsored by Red Stag by Jim Beam® Hardcore Cider and received free samples of food, pairings and product. The decision to write this review, as well as all opinions, are our own.