Priest, Peasant, Pop Icon: Pulque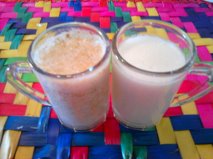 Pulque Coconut Curado. Photo: Victoria del Ángel
When trying to talk about pulque, it is only possible to scratch the surface. An ancient fermented drink made with nectar from 12-year old agave plants, this milky alcoholic substance has a soap opera-worthy history. Once a prominent sacred potion, and esteemed secular remedy to which aphrodisiac and extraordinary nutritious properties were attributed, pulque has also gone from being anything from the stigma of the demons of a caste, to the protagonist of the movement of Mexican independence.
500 years later, and after enduring both the rejection and nationalistic embrace of its own people, this drink continues to be a relevant part of Mexican life and popular folklore. In the early 1900s, more than one thousand pulquerías peppered the streets of Mexico City, with catchy, tongue-in-cheek names reflecting the innate humor of Defeño* social dynamics- "The Other Church", "A Lady's Belch", "Better Here than There" (for an establishment across from a cemetery). Also, many of them are hosts to quite a collection of Mexican art.
Although today pulque is consumed primarily in rural areas where its  complex drinking and serving etiquette lives on, there seems to be a movement of resurgence in Mexico City. Tasting tours are now also available.
Because the drink is fermented, selling it in cans is impractical, but may still be found. The best pulque is freshly fermented, and it is usually enjoyed by itself or mixed with fruits, in which case it is called curado. I have not stumbled upon pulque breweries in Chicago, but then again, I have not purposefully looked for them either yet, although I have read about people who brew their own for personal consumption. If you are outside of Mexico and know where to find pulque, here is chef Victoria del Ángel's recipe to make your own coconut curado:
Curado de Coco
• 4 cups of fresh pulque
• 1 cup of shredded coconut
• 1 can of creme of coconut
• Sugar to taste
Directions:
Mix all the ingredients in a blender slowly incorporating the pulque.
Refrigerate for 30-60 minutes.
Serve.
*Defeños are citizens of Mexico City
Chef Victoria del Ángel discovered her passion for cooking at the age of three. Fascinated by Mexican cuisine, she obtained a degree in gastronomy by the Escuela Superior de Gastronomía in Mexico and a graduate degree by the Culinary Institute of Switzerland. Currently, Victoria is the owner of a chocolate boutique,  Xocolat del Ángel,  in Jilotepec, México.