Carnitas Uruapan – The Best of Michoacán in Pilsen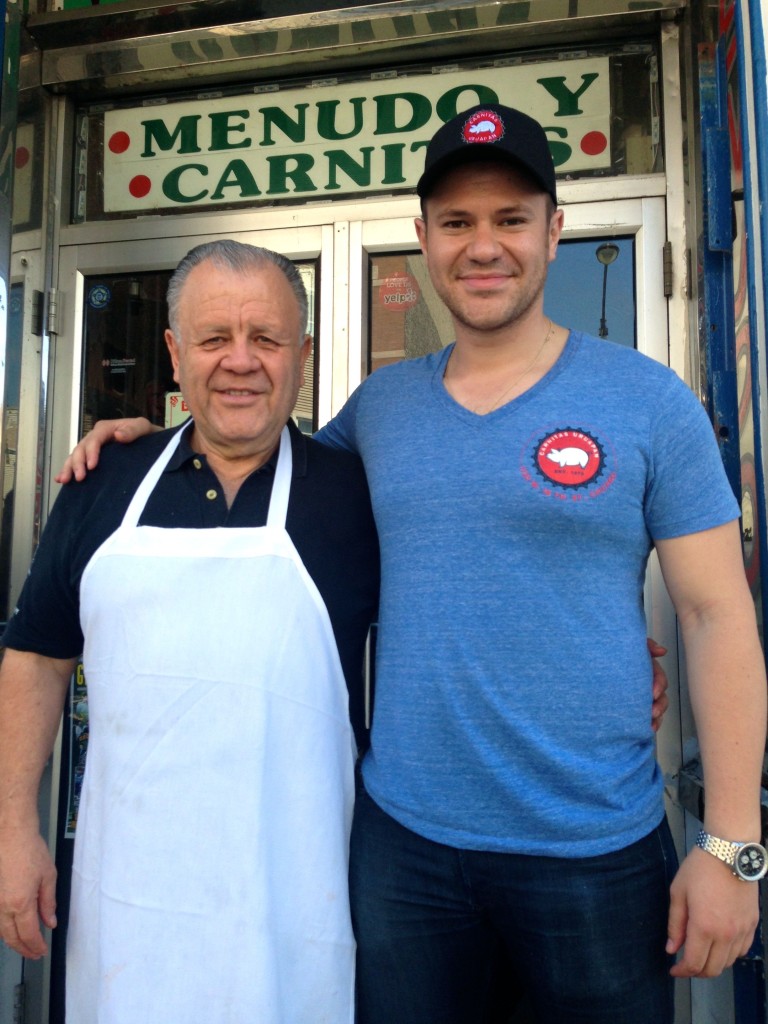 Inocencio Carbajal becomes emotional as he shares a very personal story. In the late 70s, as a recent transplant from Uruapan, Michoacán, he had to make the decision to let go of his most precious possession- a medal of the Virgin of Guadalupe. "I asked Her to bless my choice," says Inocencio, his eyes tearing up. "We bought our first piece of equipment with that money."
Fast-forward four decades later, and Inocencio's hardship has paid off.  As we arrived at the Pilsen eatery, a long line of patrons had already assembled.  Marcos Carbajal, Inocencio's son, kindly invited us to tour the kitchen while we found a spot to talk.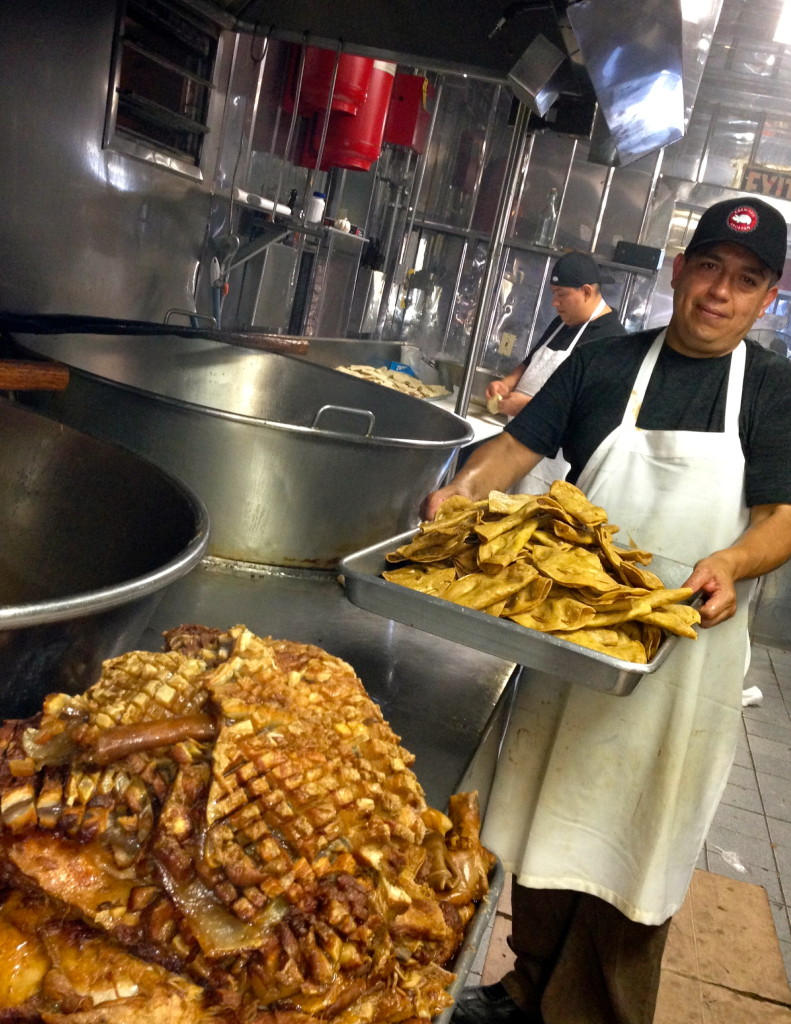 The state of Michoacán in southwestern Mexico, is famous for its carnitas, one of Mexico's favorite folk dishes. Usually cooked in large copper containers brought in from a specific neighboring town,  it is not uncommon to find this treat also being prepared in large stainless steel pots. "In many villages, eating carnitas is a Sunday morning ritual," said Marcos, who periodically visits family in Uruapan, his father's birthplace. "People know to arrive early, as typically only one pig is prepared, and they gather to eat after church. Many of our customers still follow this custom, but we cook a fresh batch every two hours."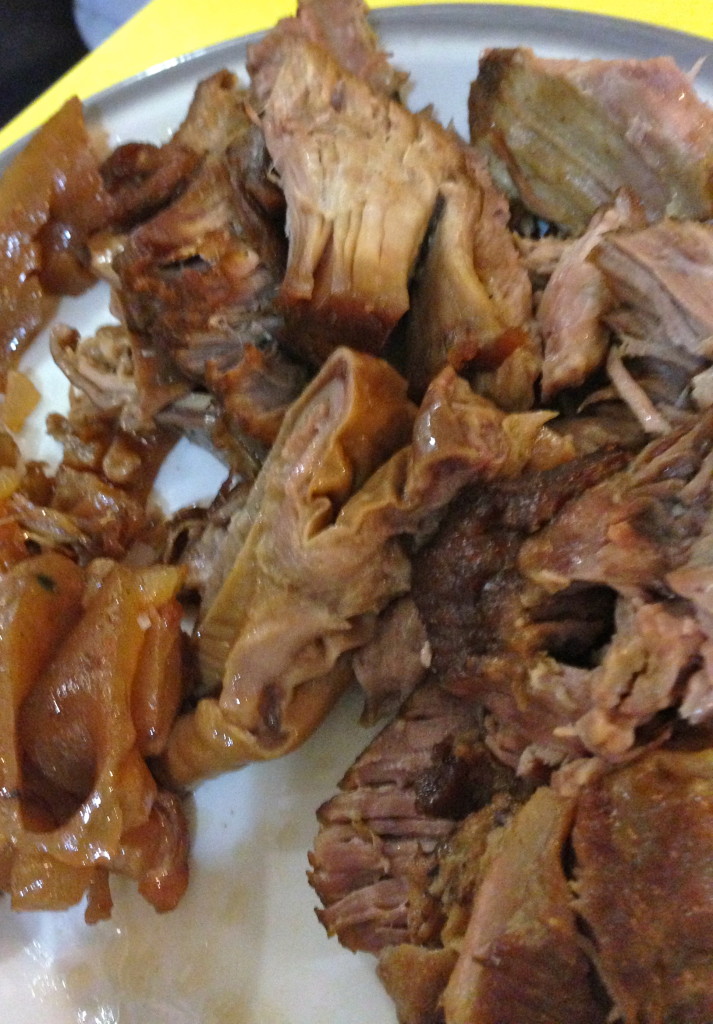 Although he kept in his heart the desire to go back to Michoacán at some point, Inocencio's family and his growing business kept him in Pilsen. "All of a sudden, Marcos was ready to go to college, and I was happy that he had the opportunity," said Inocencio. For Marcos,  the word "pigskin" is not merely a seasonal one- with a degree in Economics from the University of Michigan, and thinking of helping his dad, Marcos left his corporate job to work in the restaurant full time, while also pursuing a Master's Degree in Entrepreneurship from Northwestern University.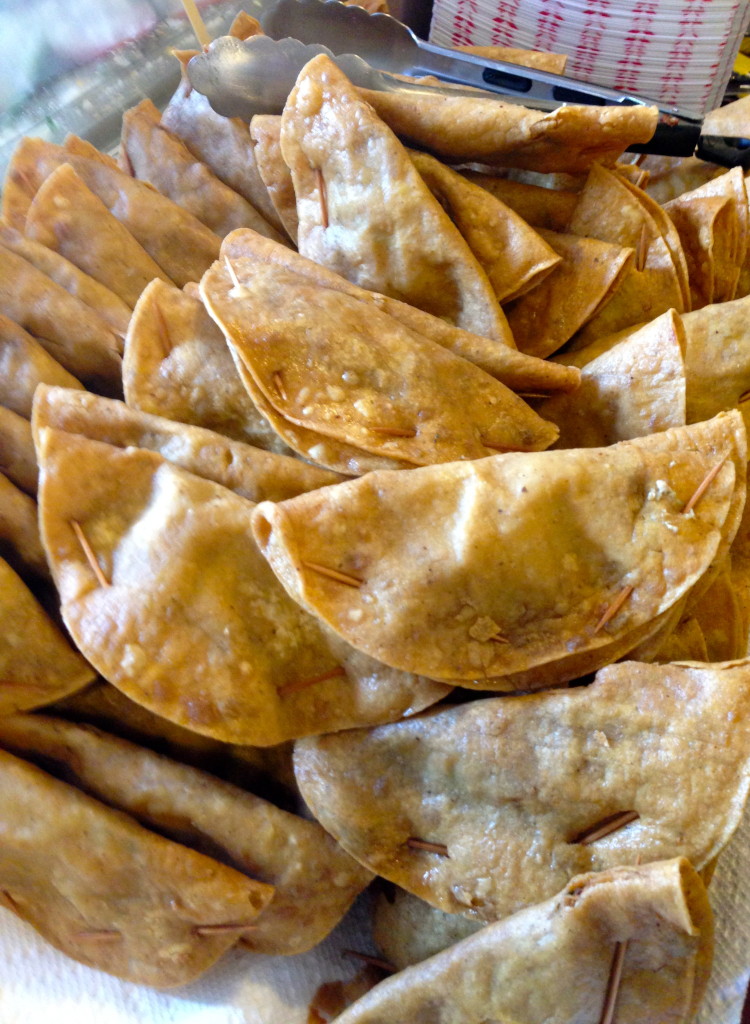 Although Inocencio has not returned to Uruapan, he has brought Uruapan to Chicago with him. The path he chose was not easy but, he says smiling, "I would do it all over again".
His eatery's menu is perfectly simple, with many well-achieved crowd pleasers. From mouthwatering pork carnitas, to menudo, chicharrón en salsa de tomate ( chicharrón in tomato sauce, of which I took a big container home), cacti salad and even quesadillas de sesos (brain-stuffed quesadillas), this place is the real deal. In fact, the cueritos I tried here are the best I have ever had in both, texture and flavor.
Carnitas Uruapan did not disappoint. My stomach was full and happy, and after talking to Inocencio and Marcos, my heart was too.
¡Viva México!
1725 W 18th St  Chicago, IL 60608
(312) 226-2654
Claim your free carnitas taco with your to go order and and free order of chicharrón if you check-in on Facebook.