Estampas de Mi Ciudad – The Ubiquitous Street Quesadilla Stand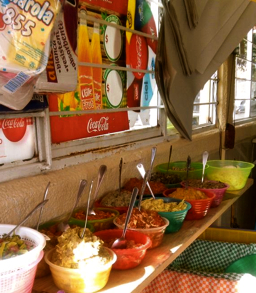 A sampling of Mexico´s mestizo nature in a bite, (the fusion concept of a quesadilla already combines the Spanish word for "queso" with the Aztec word "tortilla") try a chorizo and cheese quesadilla. More pre-Hispanic stuffings include flor de calabaza (zucchini blossoms) or huitlacoche (corn fungus). The latter might not sound too terribly appealing, but trust me, there is a reason why Mexicans have consider it a treat for centuries.
You will never go hungry in Mexico City, where quesadillas, sopes and other garnachas* are easily found street-side and served either as a snack or a meal. Filled with a variety of stuffings ranging from flowers and vegetables, to meat and even insects, these portable pockets of pure joy are a staple of any modern Mexican meal.
*Garnachas: Slang term for comfort-food, usually made out of corn on a comal.